BACHELOR'S DEGREES 
SPECIALITIE
CONDUCTING
Choral Conducting | Orchestral Conducting
PERFORMANCE
Accordion | Bassoon | Clarinet | Double Bass | Flute | French Horn | Guitar | Harp | Oboe | Organ | Percussion | Piano | Saxophone | Trombone | Trumpet | Tuba | Txistu | Viola | Violin | Violoncello | Voice
JAZZ
Double Bass | Drums | Electric Bass | Electric Guitar | Piano | Saxophone | Trombone | Trumpet | Voice
DOWNLOAD CURRICULUM

ACADEMIC RATES 2019/20
| ITEM | AMOUNT IN EUROS |
| --- | --- |
| Fee per credit 1st matriculation | 26,47€ |
| Fee per credit 2nd matriculation | 45,68€ |
| Fee per credit 3rd matriculation | 55,80€ |
| Opening of academic transcript | 27,34€ |
| Recognition of credits | 25% of the cost of the credits corresponding to the recognised subject. |
| External student credit recognition study | 30,00€ |
| Official academic certification | 27,34€ |
| Academic transcript transfer IN/OUT | 27,34€ |
The matriculation fees in Musikene follow the system of credits established in universities. 240 ECTS credits divided into 4 academic years of 60 each.
GRANTS
Grants exclusively for postgraduate students:
Two AIE grants of 3,000 euros each: The Comisión de Fondo Asistencial y Cultural de la AIE (Artistas, Intérpretes o Ejecutantes) (The Assistance and Cultural Fund Commission of the Spanish Society of Artists and Performers), within its annual offer of highly specialised grants, awards two grants of 3,000 euros each for Musikene students in the specialisations of Classical and Jazz performance. The official announcement is published on the AIE website in March.
An "Igartza" grant of 2,000 euros: The Town Council of Beasain will award a grant of 2,000 euros to a student registered in postgraduate studies at Musikene selected by a panel created expressly for the purpose. The selection will be made in autumn.
An SGAE grant of 1,000 euros: The Fundación SGAE (Spanish Society of Authors and Publishers Foundation) will award a 1,000 euros grant to a Composition student at Musikene by a panel created expressly for the purpose. The selection will take place in autumn.
Grants of a general nature:
Basque Government dents residing in the Basque Autonomous Community are eligible to apply for grants awarded annually by the Basque Government for university and other higher-level studies. Scholarships are posted in July at: http://www.hezkuntza.ejgv.euskadi.eus
Ministry of Education Scholarships: Students residing outside of the Basque Autonomous Community are eligible to apply for grants of a general nature offered every year by the Ministry of Education at the end of July. These grants are for students enrolled in post-compulsory studies: http://www.mecd.gob.es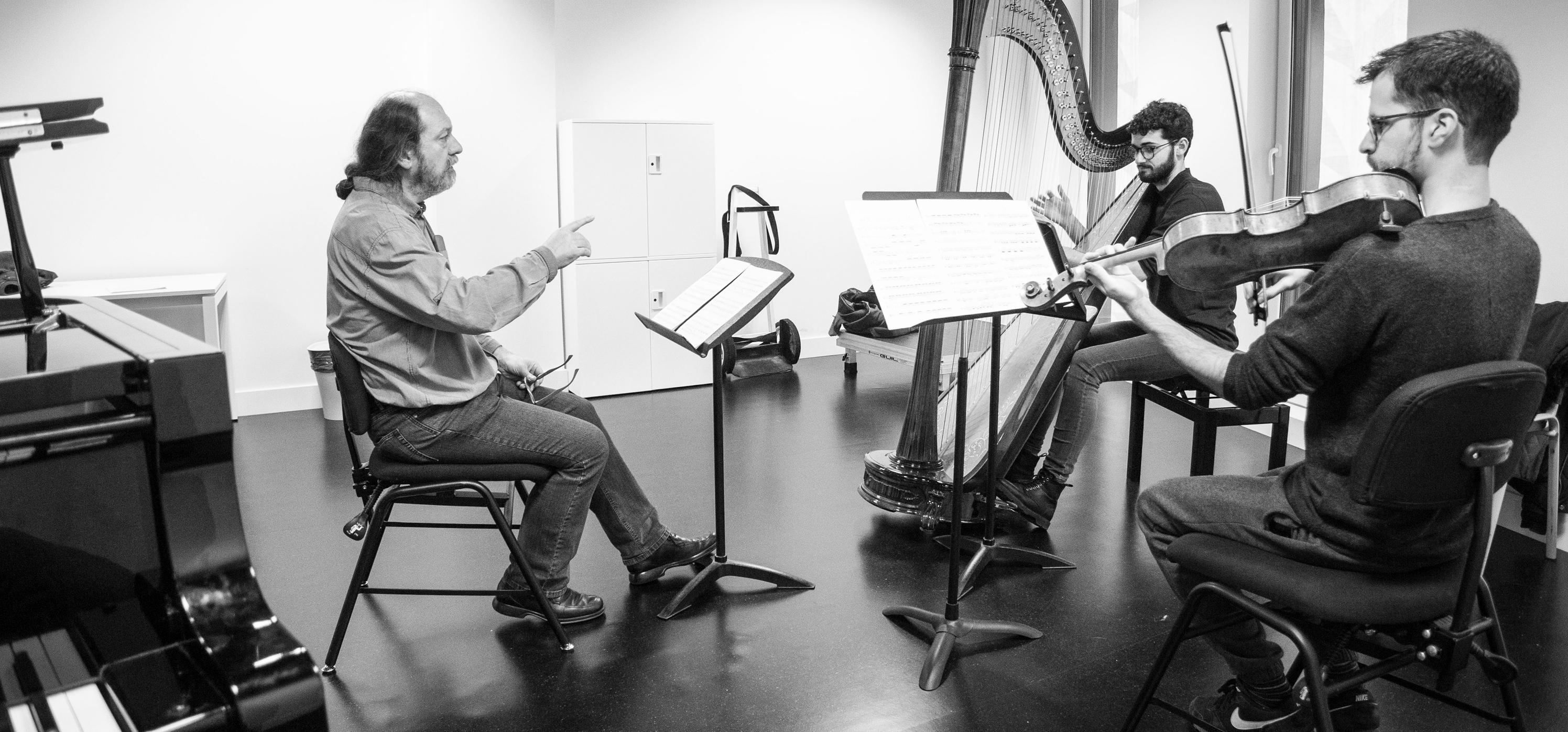 The main purpose of these sessions is to present the philosophy and the way Musikene works. We will present our Bachelor's degree syllabuses, the quality of our teaching, the opportunities and projects offered by Musikene, as well as the characteristics of the Entrance Exams. We will introduce you to the professors of each speciality and their work. Any other information the attendees may consider of interest will be also provided.
The Open Days are aimed preferably at those who are going to take the entrance exams for the 2021-22 academic year. Musikene reserves the right of admission depending on the number of registrations.
The Open Door sessions are free of charge and will be held entirely online this 2021. Those interested should register by filling in the registration form. The registration deadline for each specialty is detailed in the corresponding link.
For further information regarding dates, times and programme of activities for each speciality, please click on the corresponding link to send your enquiry:
Registration form

ACCESS AND ADMISSION