ENSEMBLES
The Study Plan designed at Musikene promotes participation in instrumental groups in tune with the reality of the current labour market in music and the cultural projection of an institute of higher learning. Interpretation in groups is organised in subjects which cover diverse formats: small groups such as wind quartet, brass quartet, string quartet, saxophone quartet, and mixed groups and bands, such as Percussion Ensemble, Saxophone Ensemble, the Brass Band and the accordion group. All these are joined by the choir, which is a compulsory subject for
students specialising in Piano, Organ, Guitar, Accordion and Conducting. In addition, the school has an Orchestral Studies Programme, in the classical music study plan, and the Big Band programme, in the jazz speciality. The Orchestral Study Programme is embodied in diverse groups, among which the Symphony Orchestra is the most important. In addition to the Symphony Orchestra, the programme consists of other groups such as the Sinfonieta and the Concert Band.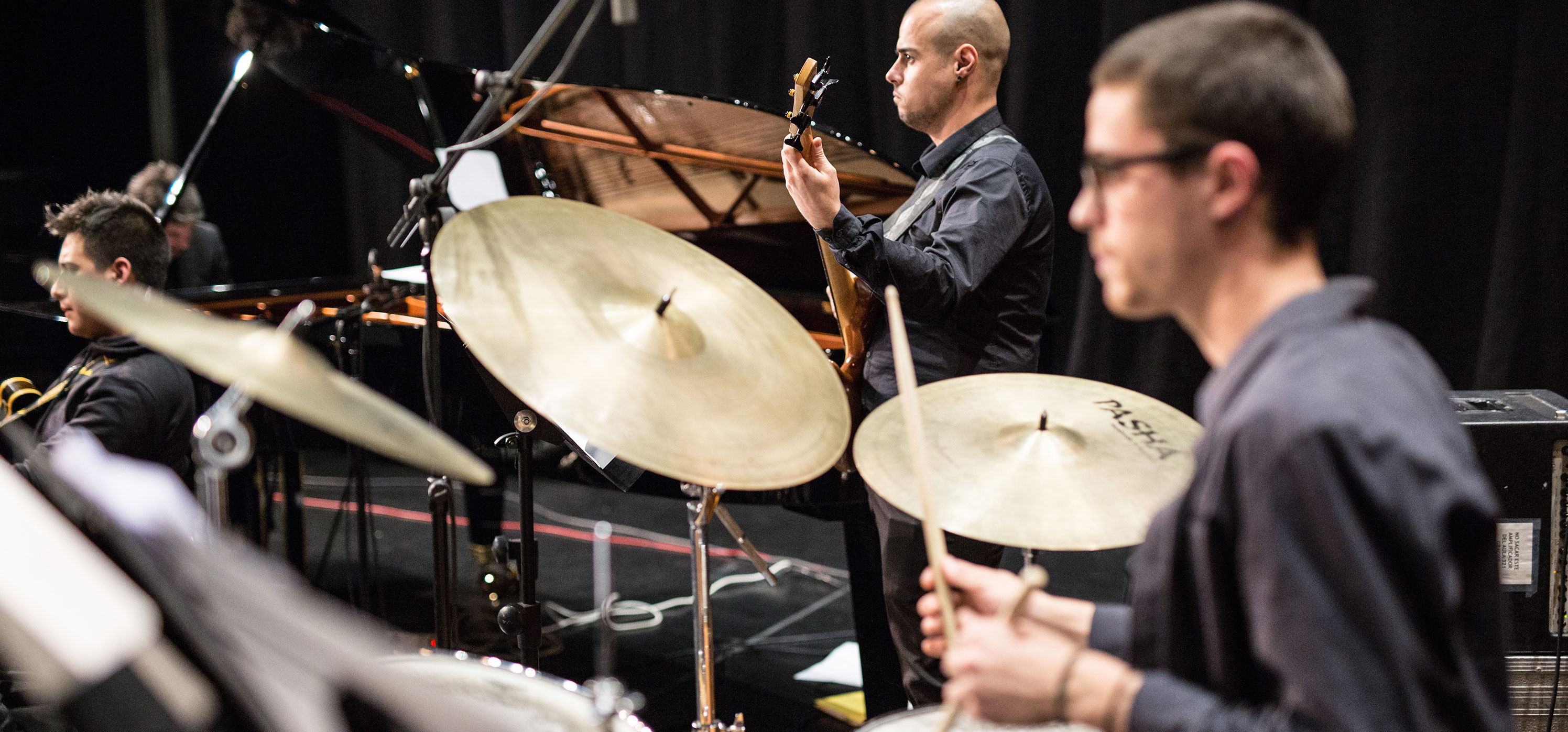 ORCHESTRAL STUDIES PROGRAMME
The biggest ensembles are organised from the Orchestral Studies coordination area. This is carried out via three groups: Symphony Orchestra, Musikene Sinfonieta and Concert Band. Throughout the academic year, seven intensive week-long encounters are held: three for the Symphony Orchestra, two for the Musikene Sinfonieta, and two for the Concert Band. The philosophy of Musikene is to carry out a project with the students using same approach as that of professional orchestras, thus preparing the students for the demanding life of a professional musician. They are week-long encounters with daily rehearsals, culminating in at least one concert. All types of styles and eras are tackled, from baroque music to newly composed music, under the artistic proposal carried out by guest conductors and the coordinator of orchestral studies, paying attention to the knowledge of a diverse and rich repertoire which provides the students with education and a motivating artistic experience. Likewise, these groups serve as a platform for those students who, following a rigorous selection process, are able to perform concerts as soloists.
Musikene invites internationally prestigious conductors for its Orchestral Studies programme. Students have already been conducted by such renowned batons as Alberto Zedda, Colin Metters, José Ramón Encinar, Arturo Tamayo, Antoni Ros-Marbà, Peter Eötvos, Rumon Gamba and Víctor Pablo Pérez, among many others, without neglecting our own conductors and coordinators in this area, such as José Luis Estellés, Pierre Cao, Jesús Echeverría and Joseba Torre.
A special mention must be given to the Masters in Orchestral Studies for string instruments. It is worth highlighting the work carried out here in the Chamber Orchestra, the Musikene Master String Orkestra. Each year, this chamber ensemble has an orchestra leader/conductor of international renown —it was Gordan Nikolic in the first two editions, and in the 2017-18 academic year Boris Garlitsky— with whom students work on a programme over a week which they then perform in professional concerts, both in the auditorium at Musikene and in other auditoriums and theatres in the Basque Country.
JAZZ
In addition to the Big Band, the jazz-interpretation speciality has other ensembles of its own. As jazz is a music of collective expression, where improvisation is understood only within the group context, group practice is fundamental in the training of a jazz musician. In the Musikene study programmes, the instrumental group or combo has always been a core subject throughout the four academic years, with the greatest weight in credits within the group music material, usually in quintet groups. In addition, there is a compulsory group subject called Jazz-Specific Ensembles, which covers different styles and types of ensemble: jazz fusion in the first year, Latin jazz in the second, hard bop in the third, and music for trio ensembles with diverse instruments in the fourth year. Lastly, during the weeks of intensive activity, the students are grouped together in a Big Band where, as in classical, they prepare a repertoire in daily rehearsal sessions which culminate in one or two concerts at the end of those weeks.
CHAMBER MUSIC
In the field of chamber music, Musikene provides the students with a solid training in the most representative groups of the chamber music literature of each speciality, such as string quartet, wind quartet and brass quartet. By means of these ensembles, a wide, rich and fundamental repertoire for these instruments is worked on and the teaching is provided by specialist teachers. It comprises specific material for these specialities and is taught for three years, while simultaneously being combined with other mixed instrumental groups, so that the students, according to their interests, projects and repertoire, can choose the chamber group they wish to study and which will be taught by another teacher. Thus, the chamber music material brings together students from all the school's specialities on a weekly basis in various combinations. Likewise, there is capacity for other specific formats, such as saxophone, txistu (Basque flute) quartet and accordion quartets and vocal chamber music. It is usual for the chamber ensembles to take part in concerts, cycles and festivals taking place in diverse cities, some of them as important as the San Sebastián Musical Fortnight.
Lastly, our school is frequently host to the creation of other ensembles to tackle repertoires with diverse combinations of instruments, especially to interpret newly-composed music.
All members of all these groups are Musikene students who, by means of contact with different teachers and conductors, acquire valuable professional experience. Chamber music groups and ensembles have arisen from these groups which have crossed over, beyond the walls of Musikene, to become professional projects.