Jesús Echeverría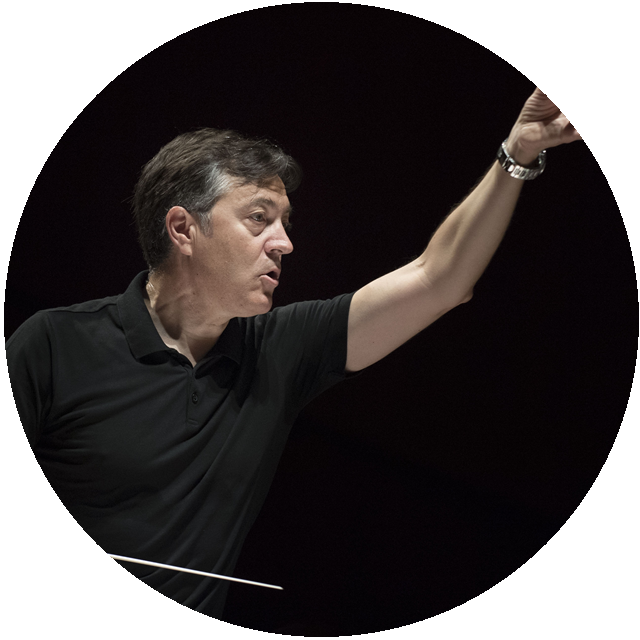 Ha estudiado Dirección de orquesta en el Conservatorio de Viena y en la Royal Academy of Music de Londres.
En Londres funda The European Sinfonia. Inaugura la programación de Compostela 93 con la 9ª Sinfonía de Beethoven y The London Philarmonic Choir, Obraztsova y Ricciareli. Dirige en el Palau de Barcelona, Palau de Valencia, teatro Arriaga de Bilbao, Victoria Eugenia de S. Sebastián, Palacio de Festivales de Cantabria, Palacio Euskalduna, Kursaal, Baluarte.
Desde 1988 dirige la Orquesta de Navarra y la Orquesta de Euskadi. Ha dirigido la Orquesta Filarmónica de Letonia, Orquesta Nacional de Rusia, Orquesta del Teatro de Lublin.
Ha realizado una gira por Japón y otra en Polonia. Ha dirigido una Antología de la Zarzuela en Lublin, Polonia.
Ha dirigido y grabado ópera, zarzuela y música sinfónico-coral. Destacan Los Pescadores de Perlas y El Rapto en el Serrallo. Ha grabado en DVD el Gran Miserere y la Misa de Difuntos de H. Eslava. Ha dirigido la ópera completa Las Golondrinas de Usandizaga.
Ha estudiado composición con González Acilu, Escudero, Marco, Darias, Halffter y Sotelo. La FUNDACIÓN MÚSICA CONTEMPORÁNEA edita un CD con su obra "Dos Bocetos". Recibe el premio de composición INJUVE 1998 y 1999. Obtiene el Premio PABLO SOROZÁBAL con su Cuarteto de Cuerda Nº 2. Obtiene el XVIII PREMIO JOAQUÍN TURINA con su obra Requiem Sine Verbis.
Recibe un encargo del CENTRO PARA LA DIFUSIÓN DE LA MÚSICA CONTEMPORÁNEA. Su obra Diálogos se presenta en el Círculo de Bellas Artes de Madrid.
Obtiene el XV PREMIO DE COMPOSICIÓN CIUDAT D'ALCOI 2000. Estrena en la Quincena Musical y en el Festival Musikaste. Recibe encargo de la Fundación Autor.
En 2019 se estrena su Concierto para percusión y orquesta, obra encargada por la OSN.
Ha sido Director Asociado de la Orquesta Sinfónica de Navarra (2015-2018). Actualmente es el director titular de la Orquesta Sinfónica de La Rioja.